Carl Maloney, patriarch of our family run business founded Canadian Jewelry Exchange over 30 years ago. Carl's vision was to create a store that showcased handpicked one of a kind pre-owned estate jewelry in a contemporary setting… no doubt he did it. In 2017 CJEX moved to a chic, professionally designed and contemporary premise offering a store that completed Carl's vision. Today three generations of Maloney's, among others, share the same integrity that has given thousands of current and past clients peace of mind. We have grown to be the biggest buyer of estate jewelry & diamonds in the Okanagan.
Our new home is located at: #101-590 KLO Road, Kelowna BC, which is right beside Bliss Bridal in the heart of South Pandosy.
Our Manifesto
Think, one-of-a-kind. No, truly they are.
Timeless pieces that especially delight us. We handpick the pieces that we think will make that oh-so-happy grin spread across your face. Our carefully curated estate pieces can be from the 1800's to present day. That's the beauty and the mystery of why we adore purchasing estate collections. Indeed, we do employ the most state of the art technology so we can pay you the most, on jewelry we buy from you.

We are family owned CJEX, and we are proud to deliver estate jewelry excellence every single time our door opens.
See What's In-Store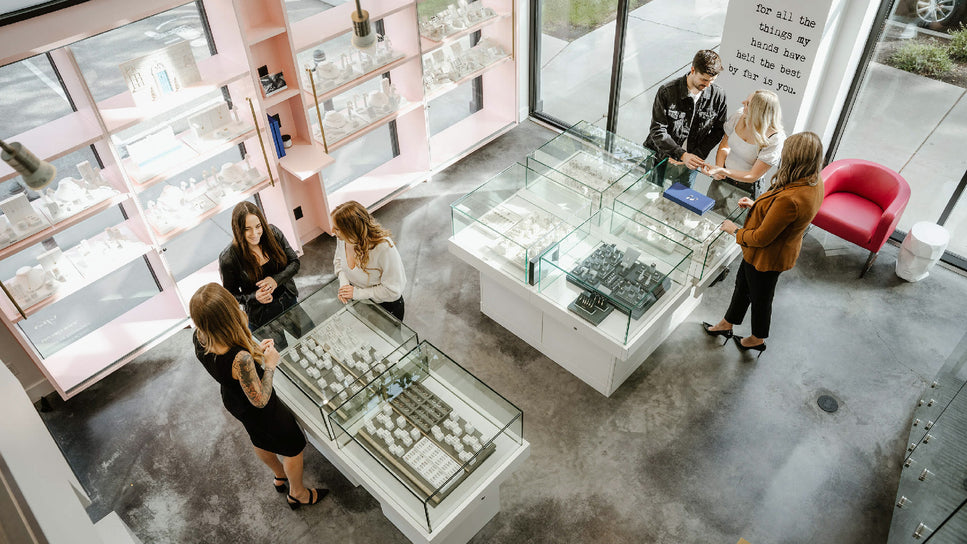 PERSONAL JEWELRY CONSULTANT
Sabrina Jones
Sabrina's first pieces of jewelry were graduation gifts from seventeen years ago: a diamond necklace from her mom and diamond ring from her grandma – classic and lovely, and she still owns them today. Her go-to laugh out loud movies are corny comedies; we're talking Two Weeks Notice, Just Go With It, and The Wedding Singer. She's most proud of her family and colleagues who have successfully worked together for three generations and genuinely enjoy it. Sabrina and her husband have made time to regularly volunteer in the community, which is work she also takes great pride in with the ability to give back. If you're getting to know Sabrina, just know one thing: she's very bad at texting back. She just replied to your text in her head and forgot to press send in real life.
Book A Consultation